Information
In this section you can find out about all the diffeent kinds of throttle bodies that we can supply. Use the links below to browse the various kinds.

Welcome to the Badger5 Technical Pages.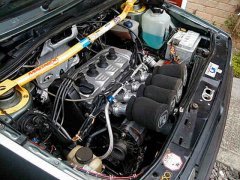 How Do You get a Real 200bhp 16v VW engine using the Badger5 Throttle bodies?
If you read through some of our customer testimonials and see their typical engine specs, you will see most of them are running 2.0ltr 16v engines, with gas flowed cylinder heads, and uprated camshafts of varying specifications. The choice of camshaft will be a major choice when considering is this a street engine and hence emissions friendly OR a racespec engine which will live on track. A good compromise is for a staggered cam setup, with either 260in/276ex or 268in/276ex. This has proven to be stable on idle, produce good power and more importantly produce good mid range torque.
You can view a customers Dynoplot here to see the actual power developed with a Badger5 Full system and supplied map. DavieJohnstonesMap From our own Jetta 16v demonstrator, we achieve a wheel horsepower of 174bhp and 152lb/ft torque, with over 130lb/ft available from 2700rpm.