Throttle Kits
16v VW DTH Throttle Body kits, include DTA EXP48 ECU, for Full Ignition and Fuel mapping ability.
If you have a 1.8 or 2.0 16v VW/Seat/Audi engine, which is modified with gas flowed head, cams, you are very likely to have outgrown your factory injection system. Converting to the Badger5 direct to head throttle bodies, can gain you up to another 30bhp.
Our own demonstrator, a 2ltr MK2 16v Jetta, increased power from 137bhp @ wheels, to 163bhp @ wheels purely because of our direct to head throttle bodies. The engine, which is now a higher mechanical spec, now produces a real dyno proven 174bhp @ wheels with 152lb/ft of torque, 130lb/ft of which is available from a mere 2700rpm.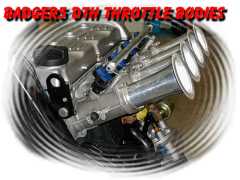 Welcome to the Badger5 Throttle Body conversion kits page, featuring the 16v VW DTH Throttle Body Conversion.
Badger5 16v VW conversion kits include DTA EXP48 ECU's, for fully mappable ignition & fuel injection.
Ignition is distributor-less, running wasted spark coil packs. Closed loop lambda is optionally switchable via software.

The Badger5 DTH kit fits both 1.8 & 2.0ltr VW/Seat/Audi engines
Throttle Body Conversion Kit Contents
1 Pair 45mm DTH16v VW Throttle Bodies
*
*
4 off Air Horns (Velocity Stacks)
*
*
Fuel Rail
*
*
Throttle Mechanism for use with stock VW Cable
DTA EXP48 4 Cylinder 8 Injector ECU
4 Cylinder, 4 injector Wiring Loom (including lambda)
Throttle Potentiometer
Water Temperature Sensor
Ait Temperature Sensor
Crank Sensor
Crank Trigger Wheel (36-1)
Crank Trigger Wheel, pulley mounting boss
4 Cylinder Ignition coil pack
Package Cost is
£CALL
GBP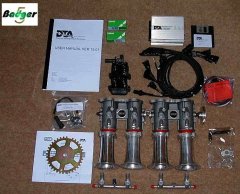 Badger5 Direct to Head VW/Seat/Audi Full kit, includes one pair of Badger5 45mm DTH throttle bodies, 4 x 45mmx120mm Air Horns, fuel rails, Throttle Pot, throttle pot connector, and throttle mechanism (for use with stock VW/Seat cable), 36-1 crank trigger wheel, crank trigger sensor, water temp sensor, air temp sensor, ignition coil pack, crank trigger wheel mounting boss, wiring loom, DTA EXP48 ecu, DTA realtime mapping software, PC serial communication lead, Badger5 evolved engine map.

Price £CALL GBP