Latest News
NEW:Brembo 4-Pot Brake Calipers and disk conversion now available 323x28 Disks. Suitable for 5x100 Golf 4, Seat Leon Cupra. From £945 for the Full kit + carriage.
NEW: Badger5 are now REVOtechnik Distributors
NEW: Badger5 are now Dr SCHRICK suppliers
NEW:: Introducing the Dynatwist Induction kits for owners of SEAT Ibiza & Leon Cupras - £175
NEW:Forge Motorsport Products now available from us at very competetive rates. (eg £82.00 for DV006 or 007) VAG product range a speciality. Call for latest prices or special offers.
NEW: Brembo 4-Pot Brake Calipers and disk conversion now available (limited supply) 305x28 Disks. Suitable for 4x100 Golf 2, Seat Ibiza Cupra. From £745 for the Full kit + carriage.
NEW:NEW USA Distributor for Badger5 Throttle systems Announced. Kris Valdez Dynamic Racing Solutions (DRS). Now moved to new larger premesis-see contact page for address. Full fitting centre.(....more)
NEW:16v VW Direct to Head throttle bodies, available as throttle only kits or Full conversion kits. Fits VW/Seat/Audi 16v engines.(....more)
NEW: P8Pro DTA ECU system. "The Dogs Danglies"(....more)
We've redesigned our website, let us know what you think(....feedback)


Badger5 Ltd is now pleased to announce that it has become a REVO Technik Authorised Distributor. REVO technik have developed Revolutionary Serial Programming Software, (SPS), which in real terms means No Chips to be fitted. No mechanical hardware is touched, no seals broken voiding warranties etc. The fitment is totally stealthy, and totally undetectable by any VAG tool. Switchable from stock to performance mode is an option (SPS1) as is variable boost and ignition control, with additional immobilisation, when using an SPS3 option. VAG group vehicles including PD Diesels, 1.8T engined cars etc are priced at £499.00. 6cyl cars are £599.00 and RS cars are £699.00. SPS1 switch box is £150, & SPS3 multi parameter switch box is £250. (prices plus vat) Best of all is you get to try a FREE DEMO VERSION which lasts for 5 hours. No hassle, no commitment FREE TRIAL. TRY BEFORE YOU BUY! Mobile fitting is available. See contact page for booking.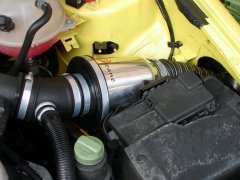 A new and exciting product is now available to owners of Seat Ibiza & Leon Cupra 20VT's. We introduce the Dynatwist Induction kit, from Green Filters.
This Pleated Cotton Gauze constructed airfilter mounted in a spun aluminium housing, including a very important Cold Air Feed, has dyno proven 8bhp and 13lbs/ft torque improvement on our own "Chipped" Ibiza Cupra. It also adds a very nice induction growl and very subtle Dump Valve "woosh" - Badger5 Ltd is the UK distributor for this product which is available for £175 GBP + carriage.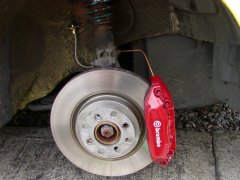 Badger5 Ltd can now offer on a limited supply basis a Superbly Priced, amazing Brembo 4-Pot caliper disk and brake upgrade to owners of Seat Ibiza Cupras and Golf 2 derivatives. This upgrade kit comprises a Pair of 305x28 disks, Caliper Carriers, Brembo 4-Pot calipers, pads, stainless braided hoses (call to confirm spec)and all associated mounting hardware and instructions. Minimum wheel diameter requirement is 7"x16" ET35, 4x100 & 38mm clearance between wheel hub and spoke rear. Call for latest prices from £745 GBP for the complete kit + carriage. ALSO *NEW* Golf IV/Leon/Octavia 323x28 Brembo 4-potGT type kit now available from £945 complete kit + carriage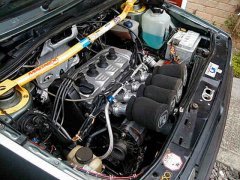 Our 16v VW/Seat DTH conversion kit as fitted to our own demonstrator, a 16v VW Jetta, now produces 174bhp @ wheels with 152lb/ft of torque, with over 130lb/ft available from 2700rpm. The specification of this engine is relatively mild, running a 9A 2ltr block, gas flowed cylinder head, 260in/270ex split duration cams, 4 into 1 tubular exhaust manifold, running into a Supersprint exhaust system. Flywheel power is 204bhp, with instant throttle response, 30mpg economy & passes UK MOT emissions tests with ease........... Sound interesting?... You too can benefit from our conversion and achieve the same if not higher power gains. Our engine spec is with mild cams remember.