Throttle Bodies
In this section you can find out about all the diffeent kinds of throttle bodies that we can supply. Use the links below to browse the various kinds.
Prices subject to tax and carriage.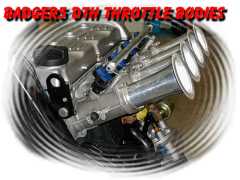 The Badger5 Direct to Head throttle conversion system producing in excess of 200bhp from 2ltrs. This is without turbo's or supercharger's, just good old normal aspiration. Instant throttle response, no lag power. Full UK emissions test compliant, 30+mpg economy possible. Available as throttle only kit or as part of our full conversion kit.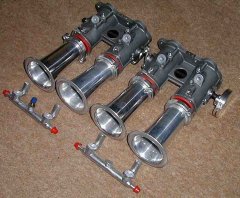 Badger5 Direct to Head VW/Seat/Audi throttle only kit, includes one pair of Badger5 45mm DTH throttle bodies, 4 x 45mmx120mm Air Horns, fuel rails, Throttle Pot, throttle pot connector, and throttle mechanism (for use with stock VW/Seat cable). Works with any aftermarket mappable ECU of your choice.

Price £CALL GBP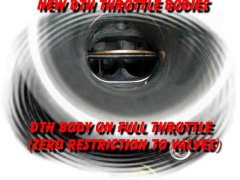 Direct to Head mounting throttle bodies eliminate the requirement for an inlet manifold, reducing weight, and allowing the best possible line-of-sight airflow to the inlet valves. No other throttle body system allows this, for the 16v VW/Seat/Audi engine. No adaptor manifold equals reduced weight & reduced system cost & MAXIMUM airflow.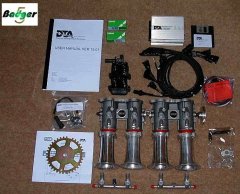 Badger5 Direct to Head VW/Seat/Audi Full kit, includes one pair of Badger5 45mm DTH throttle bodies, 4 x 45mmx120mm Air Horns, fuel rails, Throttle Pot, throttle pot connector, and throttle mechanism (for use with stock VW/Seat cable), 36-1 crank trigger wheel, crank trigger sensor, water temp sensor, air temp sensor, ignition coil pack, crank trigger wheel mounting boss, wiring loom, DTA EXP48 ecu, DTA realtime mapping software, PC serial communication lead, Badger5 evolved engine map.

Price £úCALL GBP