About Us
Company Information
Founded in August 2000-Specialising in VW /Seat Throttle body & engine management system conversions.

Badger 5 Ltd was Incorporated in August 2000, with registered Directors: Bill Brockbank & W.H.Brockbank, Company Secretary: J.E.Brockbank.
UK Company Registration No:04050713
UK VAT Registration No:762 4729 12
Some words from the Founder of Badger 5 Ltd.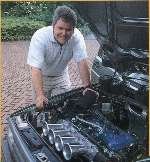 Badger 5 started unofficially in 1997 whilst evolving a throttle system for my own VW Jetta 16v which was used for sprints. The original throttle system was a slide throttle, which although worked well, was a high maintenance system, needing constant attention to prevent stiction and maintain smooth operation. At that time the DTA ecu was investigated amongst the many other programmable ECU offerings, and was settled upon (and ever since) due to its very well written mapping software, which "demistifies" the world of mappable engine management systems. Combined with its fully featured ECU's, which now boast 4cylinder 8 injector support, launch control, antilag, traction control etc... and much more, the Badger5 conversion kits for 16v VW/Seat/Audi form the basis of our product range.
The Badger 5 website was launched late 1997 as a venture into the phenomenal www. It was via the internet that Badger5 grew from a VW enthusiasts homepage, into Badger5 Ltd.
From our early experimentation days of applying race car throttle systems onto "everyday" fast road/race cars, we were overwhelmed with the interest shown by others, on how & where they too, could get a system such as ours. At that time, our initial slide design was sidelined for a more reliable and cost effective throttle body product. The next 18 months to 2 years was spent identifying the specification, designing & refining the Direct to Head throttle bodies into the product we have today. Power gains now exceed the original prototype model, and customer cars will regularly achieve over 200bhp from their modified 16v VW/Seat/Audi engines. These engines are not all out screaming racers though, and will idle normally, start from cold, and drive like regular cars, UNTIL that is you press the loud pedal... and then you HANG ON and grin!
Running as complementry products to our DTH 16v VW throttle's and Full kits, are a full range of DCOE, IDA, IDF & Single throttle bodies to suit most applications. Sizes from 40mm through to 50mm bore are available, combined with a full accessories list.
Whether you want a full on conversion system, component parts, be they ECU's or throttles, we will always endeavour to match a system to your specification - Contact us for details and give us the chance to meet your needs.....
Thankyou. - Bill Brockbank